Once you've started exploring the world of essential oils, it's impossible not to come across mention of carrier oils, or base oils. Carrier oils are also known as vegetable oils, as they are derived from the seeds, nuts, flowers or kernels of plants. These carrier oils are super important in your aromatherapy journey.
Why do we use carrier oils? Carrier oils go hand in hand with essential oils. Essential oils are highly concentrated extracts and have far more available uses when diluted. Oftentimes, carrier oils are used to dilute essential oils when used on the skin such as for a massage or body rub.  Furthermore, carrier oils allow the healing benefits of essential oils to be spread more easily over the body, and thereby absorbed through the skin. Carrier oils do not evaporate like essential oils. Thus, they can help to prevent lighter aromatic molecules of essentials oils from evaporating after being applied to the skin. These can then be inhaled via the nose for further healing.
Carrier oils have their own properties and can enhance the effects of essential oils when used together. Although carrier oils are safe on skin, and rarely have adverse effects, be sure to conduct a patch test before using.
Our carrier oils
Coconut oil
Coconut oil is a popular carrier oil used in many types of body oils, balms and ointments. The oil has moisturising properties and is most suitable for dry and dehydrated skin.
Jojoba oil
Jojoba oil is often used in cosmetics due to its moisturising and healing properties. The oil is also suitable for all skin types and can be used to regulate sebum production.
Dilution ratios
Calculating dilution ratios can be tricky when you're looking at different standards of measurement. Hopefully, the conversion table below will make your life a little easier.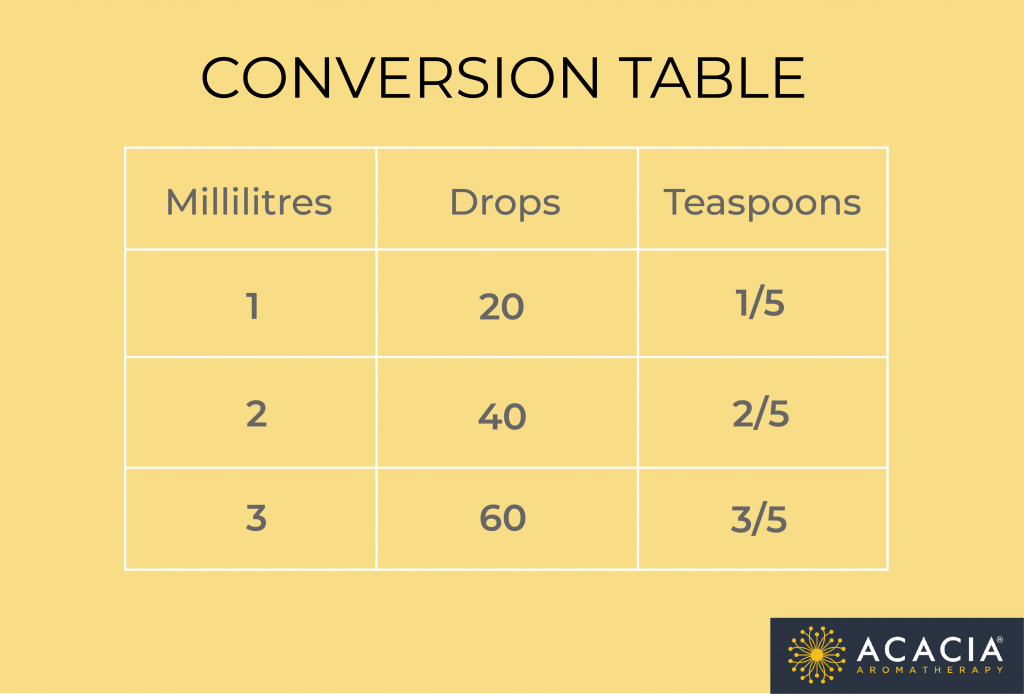 The dilution ratio for essential oils varies depending on the intended use and who it's used on. The size of drops can be different for different brands, so the table below is a general guideline based on our products.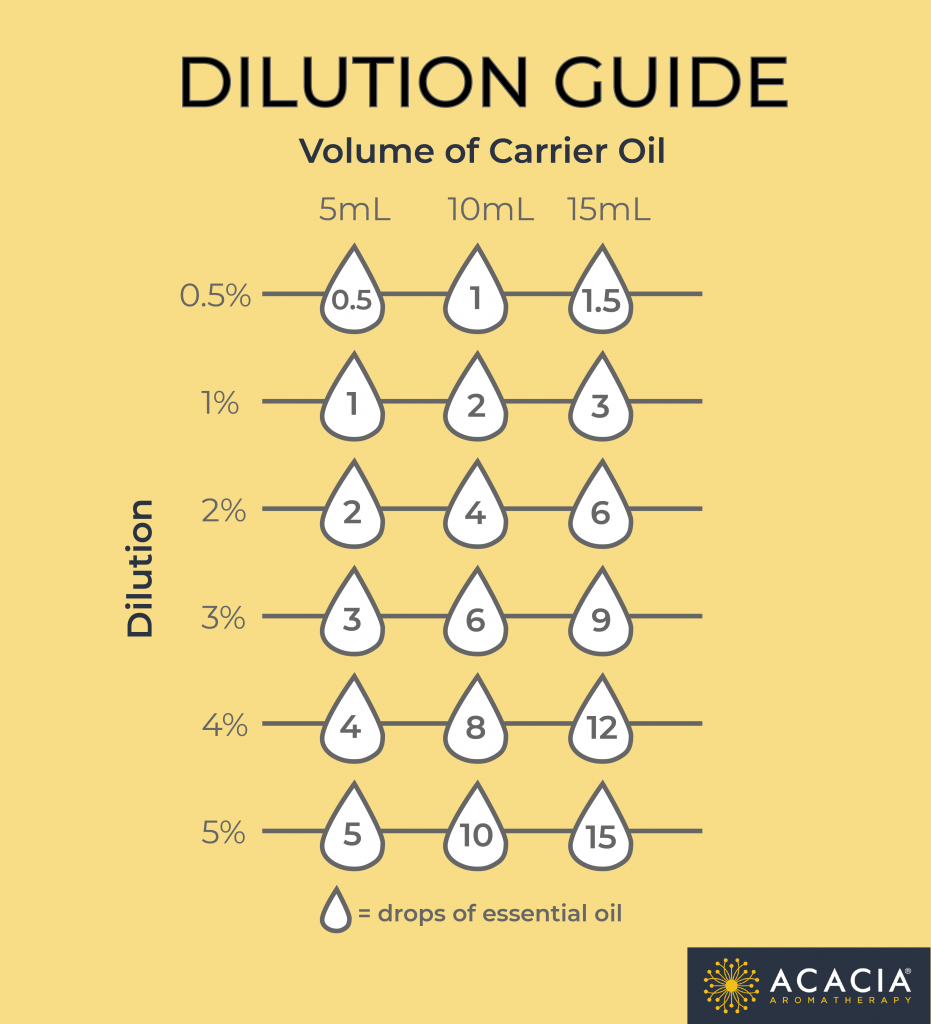 Massage
Aromatherapy massages are therapeutic and engage with both physical touch and your olfactory senses, meaning that you can absorb more of the effects of essential oils. Treat yourself to a well-deserved massage after a long day and inhale the healing benefits of your favourite essential oils.
Set the mood with some soft instrumental music and light a few candles for ambience. Alternatively, turn on your LED light ultrasonic diffuser.
Essential oils for massage should be diluted with a carrier oil at a 1% to 3% solution. In other words, 100mL of carrier oil should be diluted by 1 to 3mL, or 20 to 60 drops of essential oils. Our favourite essential oils for massage are peppermint, geranium, sweet orange, ylang ylang and lavender. Feel free to get creative and blend oils to target your specific needs or preferences. If you are using more than one oil, you can mix them with your chosen carrier oil all at once, or layer them individually onto the body. Warm the oils in your hand before applying to the skin