After another crazy year, do you know someone who needs to slow down and take a break? Maybe just want to help a loved one enjoy the moments a bit more? Check out our most popular gift sets and give them the gift of serenity today!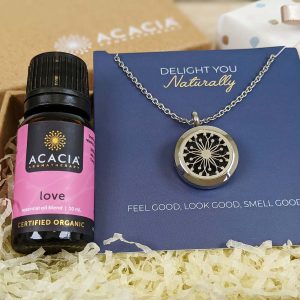 "I bought this for my daughter for her birthday with the blissful moment organic oil and it's her favourite thing! She never used essential oils before but now she doesn't leave the house without it." – Linda K.
Gift them the benefits of nature's essential oils anywhere with this adjustable aromatherapy necklace in rose gold or stainless steel. The locket charm can be used as an essential oil diffuser.
The set includes a necklace and one bottle of 10 mL Certified Organic Oils of your choice. Only use 1 to 2 drops of oil each time. Each mL of oil provides around 20 drops.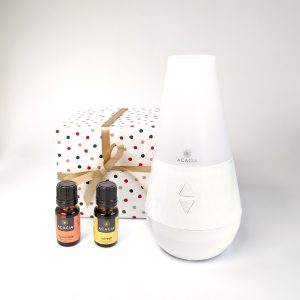 "My husband bought this set for me at one of your pop-up shops. I love how the Bella is small enough that it doesn't take up too much space on our shelf but can still spread the beautiful scent of the rejuvenate oil through all of downstairs. Best gift ever!" – Kelly J. 
Help them create the perfect ambience at home or in the office with the modern and elegant aroma diffuser Bella. 
When feeling run down after long weeks of juggling work and family, inhale the aroma of the Rejuvenate blend to energise the senses or clarify the day with citrusy notes of the Refresh essential oil.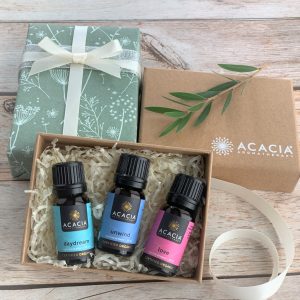 "I only just started getting into essential oil. This trio pack is amazing there are so many beautiful smelling blends! I got the Blissful Moment, Focus and Sleep Well. It's the perfect introductory pack for someone new and not sure where to start." – Becca T.
Gift them a custom aromatherapy experience with our 100% certified organic essential oil blends. Choose oils catered to their needs, whether for a mental boost during the day, or something to calm and soothe the mind.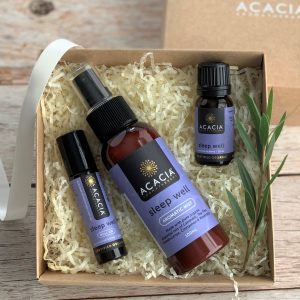 "I purchased the Sweet Dreams Wellness Set mainly for my partner. He couldn't be happier finally getting a full night's sleep instead of waking up hours before the alarm is set to go off. Using these has become a bedtime ritual a good hour or so before sleeping time. Lights are out and it's a good night slumber from us." – Vicki S. 

Give the gift of rest and relaxation anywhere. This rich blend of frankincense to calm, lavender to promote sleep and cinnamon to enhance the mood will allow for some well-deserved quiet time. Let the mind and body feel truly at ease and bask in relaxation after a long day. 
The Trio Set includes:
1 x 10 mL Sleep Well Organic Essential Oil Blend
1 x 10 mL Sleep Well Organic Essential Oil Roll-on
1 x 100 mL Sleep Well Natural Room Mist
"I love your products and my friends love coming over because my house always smells amazing. I'm so glad you have made this gift set! They don't have a diffuser at home so this is perfect for them to enjoy the beautiful scents still. Christmas shopping done!" – Amanda M.
Give your loved ones the gift of bliss and joy this Christmas. This collection contains everything you need to create a mindful atmosphere ideal for fostering positive emotions and innovation. Enjoy our bestselling range of uplifting fragrances to brighten your day.
Set Includes:
Blissful Moment Natural Aromatic Room Mist 100mL
Focus Certified Organic Essential Oil Roll-On 10mL
Fresh Florals Natural Soap Bar 100g
Tropical Breeze Natural Soy Wax Candle 220g